Description
Perfect for layering or on its own, designed with both comfort and functionality in mind, the Rendezvous Ridge Long Sleeve is your year-round go-to base layer. It is equally useful as your sole long sleeve on a backpacking trip in the mountains and being your quick dry base layer on cold winter expeditions. The odor resistance is essential for travel and extended trips - or multiple after work runs between washes! 
Odor-eliminating fabric

UPF 50+ sun protection

Fit options for your body shape

Made with recycled fibers

Great for hiking, biking, running, kayaking, packrafting, camping, hunting...

Made in USA
Fabric
Our Sterling™ fabric contains ionic+® antimicrobial technology with silver in the fiber, so you can wear it multiple times between washes without building up odor. This luxurious fabric is also quick drying and super soft to the touch (no plastic-bag feel), so it can be worn all day for outdoor fitness, recreation and comfort. Tested to the highest rating UPF 50+ for sun protection! This fabric is also part of our Re-Trace™ lineup of fabrics made from recycled fibers.
Fit
This garment is designed to be a form fitting base layer top. Select what size you "normally" wear in other outdoor gear and apparel brands, then select which fit option resonates with you. If you prefer a more relaxed fit, size up! About our fit options: Wild Iris fit is designed for a more straight/square frame shape, or more straight fit preference. Azalea Fit is designed for bodies with more volume through the bust or hips than the waist. Refer to Your Alpine Fit size and fit guide for more info!
Specs
69% Recycled Polyester
17% Tencel® Lyocell
7% ionic+® Polyester (contains silver)
7%% Lycra® Spandex
Weight: 5 oz (size M)

Made in USA

Pair these tops with our Bushwhacking Leggings
Customer Reviews
05/13/2022
Bobby I.

United States
Awesome shirt!
The fit is great! Just excellent product:)
04/08/2022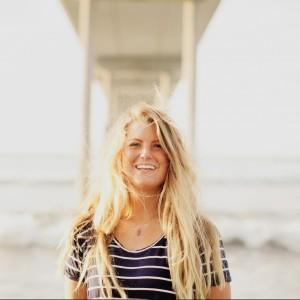 B
Bridget

United States
Amazing for running
First off, the my entire experience purchasing was amazing. Jamie went out of her way to make sure I had something that fit. Customer service is 10/10. The rendezvous ridge long sleeve did awesome on my 6 mile run, never once overheated or got cold throughout the run. I went with the wild iris fit in the medium, I'm 6ft 160lbs and it was soo flattering and the sleeves fit amazing on my long arms. Still no smell from the shirt.
10/30/2021
Rhonda S.

United States
What's better than well made in Alaska?!
This is awesome. Well made, great color, great fit, love the lovely unique mountain accent on the sleeves. Hope to see the merino layer restocked in the future also.
10/29/2021
Marin G.

United States
Warm lightweight and comfortable
I normally wear wool but getting tired of being scratchy. These are soft, lightweight and warm, and pretty too!
09/23/2021
Anonymous

United States
Cotton feel yet quick dry
Fabric is so soft and the anti odor performance feature was a added bonus. I know this will be my fav LS shirt to wear this winter.
07/24/2021
Annaliese E.

United States
Everything I was hoping for!!
I wore this shirt three days in a row and sweat in it hard core. Like not a dry area on the shirt. Three days of work outs. Three days of sweating. Put it on the fourth day and it was just fine. No gross odor. No smelly pits. I am waayyy impressed and love the fit and feel of the material. Thanks for offering different sizing within a size. It's incredible and I will be buying more!!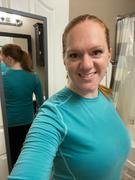 07/17/2021
jamie h.

United States
Can't stop wearing
Moving to Alaska from New Mexico I didn't have any base layers. Once I got this wonderful shirt I basically wore it all winter long. It's lightweight warm and flattering. The fact that I don't have to wash it frequently means less water and energy used and better for the environment. This top also makes a wonderful gift!
Happy customer
I was the lucky recipient of a gift from my daughter of a Rendevous Ridge long sleeved Alpine Fit shirt. I have since ordered another shirt in a different color as well as backcountry leggings. All the products are super well made , comfortable, attractive and practical for the Maine climate or any location that lends itself to outdoor adventures. Thank you for producing a great product.
06/23/2021
Anna P.

United States
LOVE it!
I love the color, material, fit of this shirt! Another new favorite!
06/15/2021
Katrina L.

United States
Ready for anything shirt
Love this multifunctional shirt! It fits so well and I love the color that I end up wearing all day before exercising too. I thought I was a curvy fit but I actually fit better in the Wild Iris, straight fit. It was helpful to try on the different styles.
06/15/2021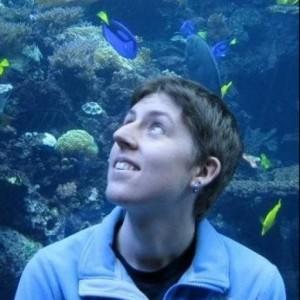 JA
J A.

United States
Stood up to a week under a drysuit
We just spent a week on a river in the Brooks Range, during which time I wore a single pair of the base layer pants and a single long sleeve base layer top the entire time -- under a drysuit during the day, while hanging around in camp, and even while sleeping. I'll admit this made me nervous since I usually bring a change of clothes for sleeping, but I wanted to cut down on weight and really test these out. And in the end these layers worked out great! I loved how quickly the fabric dries out: I can get sweaty while paddling, but whenever we took a break on shore I opened up the zips on my drysuit and let everything air out, and by the time we were done my base layer was dry again. They are also super comfortable, with a good fit, stretchy fabric, and don't feel itchy when wet (like wool can). And the best thing: after a week on the water I didn't smell terrible! (see photo for the final sniff test)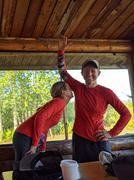 06/13/2021
Robin H.

United States
Unbelievable odor protection
Just finished a week long pack rafting trip where this was the only shirt I brought. I already love it for the awesome cut and soft fabric with cool art on the sleeves, but my mind is now blown. After 7 days in the backcountry under a dry suit, in the tent, and even on the plane ride that turned my poor stomach inside out, this shirt held almost no odor. I would easily have gone out for a beer in it after the trip! I am replacing all of my base layers with these.
06/01/2021
Hannah F.

United States
The only shirt you need
I took this shirt on a 10 day road trip through Nevada and Utah. Brought along a few other shirts and pretty much only wore this one. The fit and construction are great, and the shirt is comfortable as a base layer in cold weather or as a quick dry top on a hot hike. Checks all the practical boxes and you'll look cute too!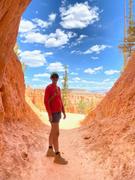 My Favorite Top
LOVE LOVE LOVE this top! It is super flattering, very comfortable and never stinks. Like never. Trust me, I've tried. I wear this top skiing, biking, hiking and sailing and rarely wash it- and no smell! I also get compliments on it everywhere I go because it looks so good. I've had this about 1.5 years and it still looks new! For sizing purposes, I am 5'3" and 125 pounds with an athletic build and I have a small in the Azaelea Fit.
My go-to layer for winter & summer
This shirt is amazing-- super soft fabric, flattering cut, and the anti-stink silver works like magic on multi-day backcountry trips! I love the longer torso on the Rendezvous Ridge; it doesn't ride up under a backpack strap like most layers do. I used to have a ton of different long-sleeve shirts that I would pick through depending on the activity, season, etc. but the Rendezvous Ridge replaced them ALL. Highly recommend!
Favorite base layer shirt
This is my favorite base layer- breathable, durable, and a flattering fit. Also, it doesn't hold odors with the Sterling silver fabric so I can wear it day after day for my outdoor activities before needing to wash it.